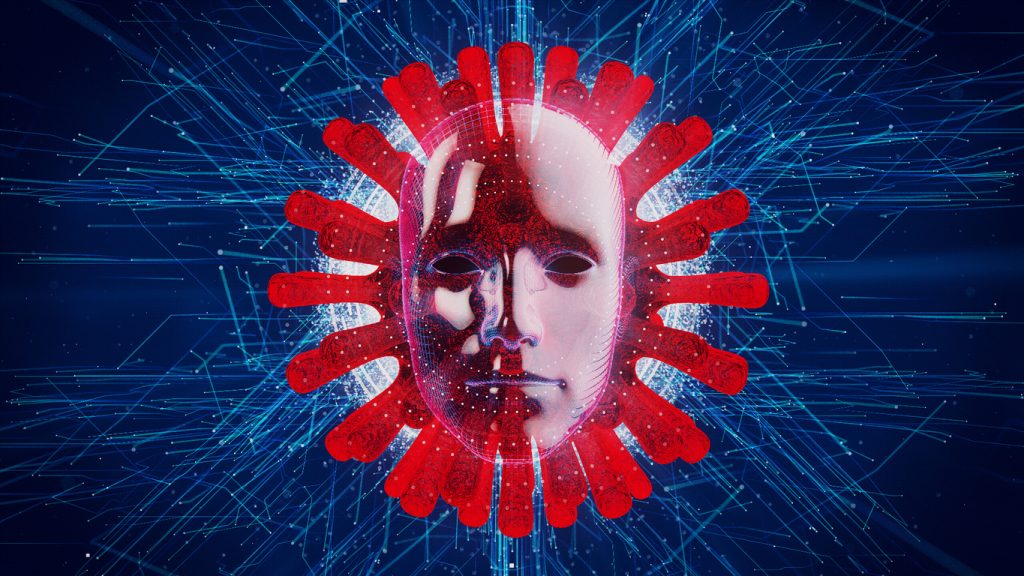 Working on the premise that artificial intelligence systems will need to "learn" using a wide set of historical data, you might be forgiven to think that applications of this technology to help fight the coronavirus pandemic will be limited.
However, the opposite is true: It would seem that AI is not only great for delivering excellent customer service and raising a company's bottom line, but it has also proved valuable in detecting and stopping the spread of coronavirus.
"Unusual Pneumonia"
On December 30, 2019, BlueDot, a Canadian startup, raised the alarm on what would later be known as COVID-19. The company's artificial intelligence software detected a large cluster of pneumonia cases in an area in Wuhan, China.  That's a week before the World Health Organization even alerted us about the start of the pandemic we're all in today.
The company markets a proprietary software that can monitor, locate, and then conceptualize the spread of infectious diseases. They use big data, machine learning, and natural language processing to do the task. They get their information from different sources including airline ticketing data, demographics, digital media, health reports, and others.
After the AI is done combing through and analyzing data, the results are sent to BlueDot's team of doctors and computer programmers, who are the ones to determine if there are events and outbreaks in the offing.
BlueDot's AI software has proven that we can use the technology to detect possible pandemics and other health events as early as possible. The company, nevertheless, is also branching out to another area: trying to understand how a certain disease spreads.
China: Source of the Virus and Frontrunner of AI
The coronavirus was first identified in China, which is also known for its AI advancements over the years. Looking at the country's efforts to stem the coronavirus, we can see how you can use AI to fight the pandemic.
From this South China Morning Post opinion piece, we learn that China is using AI in every facet of their fight against coronavirus:
starting from the screening and
right down to developing vaccines and drugs, and
coming up with containment procedures.
Artificial intelligence can go over pages and pages of coronavirus-related data and studies. This ability helps save time in the gene sequencing of the virus, creating laboratory tests, analyzing diagnostic images, and ultimately coming up with vaccines. Compare that to the SARS outbreak in 2002, where experts took months before even coming up with the viral genome sequencing. Because of AI, coronavirus sequencing was already available as early as January 2020.
Detection
AI also helped detect possible coronavirus patients with a 96 percent accuracy.  DAMO Academy fed their AI software with the data and information of confirmed cases. Another startup did the same.
Other ways AI can help during a pandemic
Chatbots were deployed and they were able to answer questions from the public about the disease. They can even tell you when it's time to see a doctor, or just to self-quarantine for 14 days.
Robots also reduced human contact. Physical robots can take body temperatures. They can also clean up and sanitize hospital COVID-19 wards. Plus, some can deliver medication and food, which frees up the time of nurses and other frontliners.
Computer vision and infrared cameras are used to detect people who have high temperatures in the crowd. It can also pinpoint whether or not these people are wearing masks. Violators will then be contacted by authorities.
AI and Coronavirus
Artificial intelligence's diverse set of technologies and capabilities has allowed governments and international health organizations to keep the new virus from spreading. AI can work in the background, collating and learning new bits of information about the coronavirus, sometimes in real-time. It can detect new cases, and even clusters of cases, to help prevent another outbreak. Plus, it can reduce the amount of human contact.
More than these, AI has helped experts know more about the virus that we're all dealing with, as well as expedited everything – from the genome sequence to possible vaccines.