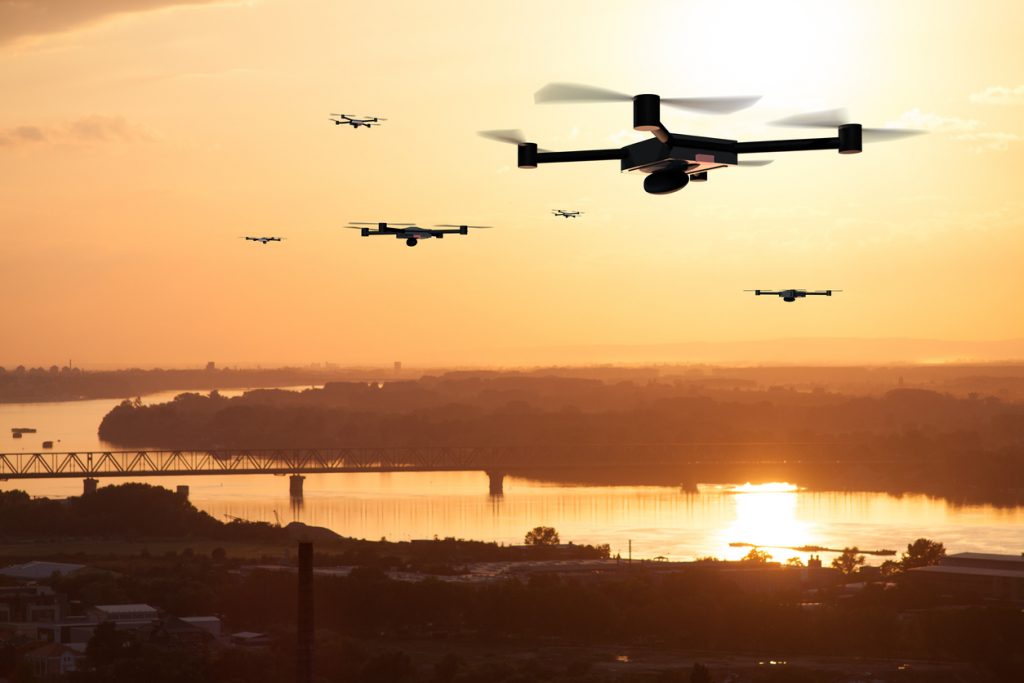 Drones went mainstream a few years ago and made a big splash on the gadget market. But what would you get if you were to mix artificial intelligence and these flying machines? You would get really cool flying machines! Drones are no longer just a toy in the hands of influencers who like to post videos on social media. They are used to predict weather and volcanic eruptions and improve logistics, transportation, and land surveillance. They have numerous missions to take on and accomplish. But how can they do all this without human intervention? How do they know how to avoid obstacles and prevent collisions?
Artificial intelligence – the key to obstacle avoidance
Enters the scene: artificial intelligence! Drone collision avoidance and obstacle detection are vital for the success of the UAV (unmanned aerial vehicle) market. More than $11 billion are to be invested in drone technology in the years to follow. And for good reasons! Artificial intelligence is not used only to collect data but also to be help drones navigate around obstacles and successfully avoid them!
Drones already on the market use GPS and GLONASS satellite navigation systems to determine their destination and keep a steady fly speed. They usually allow for video transmission control, and you can see drones flying around in public areas and events. However, what would happen if the video transmission would break down? Drone crashing is not as rare as drone manufacturers might want.
The last-generation drones have 4k cameras but most importantly, they are equipped with obstacle detection and avoidance features. This means they can manoeuvre around static obstacles like trees and buildings and avoid crashes. And they require no pilot to be able to do so. We already have manufacturers like DJI, Yuneec, and Skydio that have launched AI-manned drones able to avoid static obstacles. The technology at the base of obstacle avoidance is sensor fusion that allows for data to get back to the flight controller. The flight controller is running the obstacle detection software in charge of processing image data and scanning for obstacles in real-time.
Currently, the ability to avoid static objects limits the drone's flying speed. Since the drone can see 10-100 feet away, it has to fly slowly to also be able to maintain its ability to avoid the obstacles along the way. Moreover, larger drones find it hard to avoid obstacles because they fly at higher altitudes where they mostly have to face dynamic obstacles. For now, only smaller drones have the necessary AI to be able to avoid both static and dynamic obstacles. Since they fly lower than larger drones, they mostly have to deal with static objects and find it easier to accomplish their missions. Smaller drones with obstacle avoidance features are mostly used by hobbyists or for smaller-scale operations, such as thermal inspection or hazard detections in enclosed spaces.
Preventing collisions – the next step towards the perfect drone
Engineers at the Swiss Federal Institute of Technology in Lausanne, Switzerland, have created a predictive control model to allow drones to fly unbothered in environments with obstacles. The AI integrated into the drone allows it to predict both its behaviour and that of the neighbouring drones flying in the area. The scientists are looking to apply the model of the birds who fly in flocks to drones. Birds coordinate their behaviour with the others and, when need be, they know to adjust their flight path to keep enough distance from each other, fly in formation, and avoid obstacles. For drones to be efficient should follow the same pattern, especially when they fly in swarms.
So, as soon as a drone has to change trajectory to avoid an obstacle, the others flying along should get in sync and adjust their movement accordingly. Unfortunately, this feature is currently accompanied by "side effects" like the slowing down of the drones, as well as collisions. But there's nothing that AI can't solve. This is why Swiss engineers have invented the predictive model. With this type of AI built-in, drones can learn to react to each other's moves and anticipate their movement as well as the movement of the neighbouring drones.
For the preventive model to work, you'll need to program in the minimum distance between drones and the speed and direction the drones should follow. This data allows for a higher level of drone independence. Currently, many drones use commands issued by a central computer to calculate their trajectory and avoid collisions, but a more independent drone could do this by itself using local data.
More than just obstacle avoidance: detect-and-avoid
There's obstacle avoidance, and then there's detect-and-avoid (DAA) capability. DAA is the next-level AI that can help drones fly at any spend while avoiding any type of obstacles coming their way in the airspace. Since we're talking about airspace, the obstacles are mostly dynamic. They can be manned or unmanned aircraft or even birds.
DAA features would allow drones to detect obstacles from a greater distance than the current obstacle-avoidance drones can. Research shows that they would be able to do so from around 4000 feet, so they would have plenty of time not only to avoid the obstacle but also to keep their distance from it. The challenge for drone manufacturers is to find a way to integrate AI tools like simultaneous localization and mapping, as well as sonar-based solutions, in airborne solutions, so they can be used while flying at cruise speeds.
Dynamic situational awareness is going to be indispensable for the next generation of drones that would need to become more independent and handle situations no one has predicted or planned for. They will have an infinite number of uses, including delivering packages, inspecting pipelines, and even searching and rescuing. While drones that avoid dynamic obstacles are not yet commercially available, drone manufacturers are currently working on them, and we are sure you will be able to buy them from your neighborhood gadget store in the years to come.