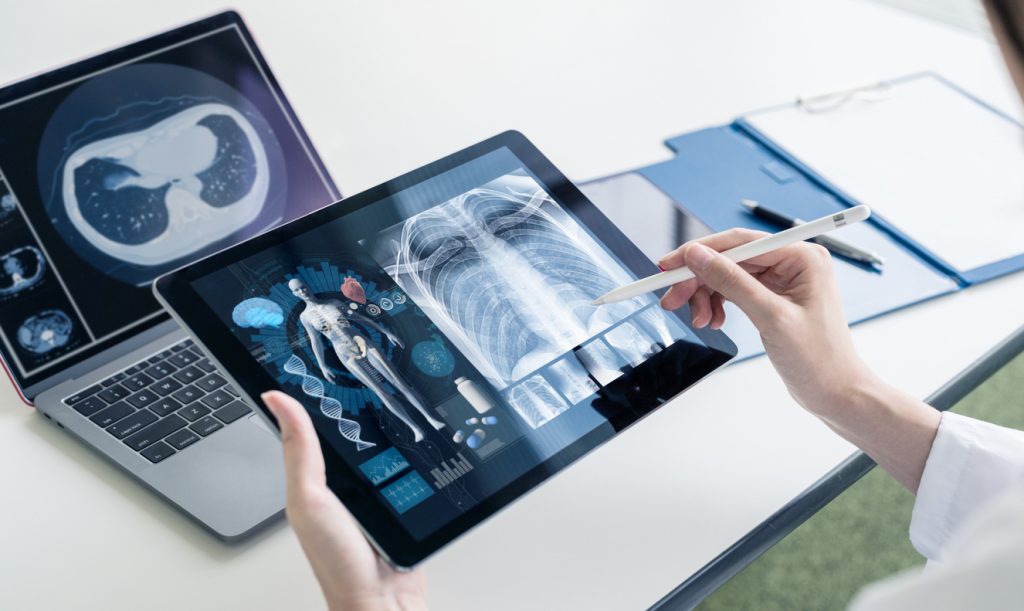 Artificial intelligence has been in use in reading diagnostic medical images for quite some time now. A study published in the Lancet, describes AI as one disruptive technology that employs algorithms to analyze complicated data. The article also confirms that AI's contribution in diagnostic imaging has the most potential when it comes to the tech's clinical applications.
AI has been very helpful in accurately detecting and quantifying different medical conditions. It can detect even the smallest and least obvious abnormalities.
The use of artificial intelligence in diagnostic imaging is widespread. It's been used to read diagnostic images in:
Neuroradiology
Musculoskeletal radiology
Cardiovascular radiology
Breast radiology
Urogenital radiology
Thorax/lung radiology
Abdominal radiology
How AI Changes Diagnostic Imaging
A radiologist is expected to go through and interpret a lot of images before they can get better at their work. Machine learning, deep learning, and AI, in general, can train using decades of images in a shorter time than even the most ardent radiologist can.
What's more, advancements in diagnostic imaging over the years has made the images more detailed, with more functional information included in. That's good news. However, it also means that radiologists will need more time going through a diagnostic image to interpret it. As such, more and more radiologists are relegated to analyzing images rather than doing clinical interpretation.
When these happens, the inference is done by non-experts and non-radiologists. AI is helping reverse this situation by doing the image analysis while the radiologists come up with the clinical interpretation.
Other benefits
Numerous studies have shown that artificial intelligence can help in other aspects of medical imaging as well. For instance, applications of the technology can:
Improve the reproducibility of protocols
Enhance image quality
Decrease the required radiation dose
Decrease the time spent at the MRI scanner
Optimize the staffing and use of scanners
Reduce costs
So aside from freeing up a radiologist's time and allowing them to do more clinical interpretations, there are practical benefits for the use of AI in radiology. As such, you can easily argue that artificial intelligence can help standardize radiology while also making processes very efficient, and lead to increased productivity.
All these will in turn lead to shortened reporting time, and even automate reports.
Zooming out
The thing with AI is that it is being used by healthcare organizations not just for diagnostic imaging applications but in other areas as well. They can easily use these other AI applications to improve the way they interpret diagnostic images.
For instance, they can use electronic medical records to make sure that all relevant information are available for more accurate diagnoses. They can also consider previous history, imaging exams, procedures, and the most recent lab results. In short, other than just interpreting and analyzing diagnostic images, AI can easily pore through all that data and give you clinical decision support.
Criticisms
The Lancet article does point out some criticisms. For one, artificial intelligence's sterling performance in diagnostic medical images might not be accurate, as the focus is on lesion detection, not on the aggressive or type of lesion. It can also increase incidents of false positives and overdiagnosis, because of the use of pathological and radiographic endpoints that are not patient-focused.
Their criticism is not on the technology per se, but how study authors measure AI's accuracy by relying on specificity and sensitivity.
AI in Diagnostic Imaging
AI, as this article pointed out, can be as accurate as a radiologist. But that doesn't mean that we can now do away with humans in the clinical imaging field. Instead, artificial intelligence can provide support. They can free up a radiologist's time to focus on clinical interpretation rather than image analysis. AI can even categorize the cases that will need more attention from radiologists so that the more pressing cases are prioritized.