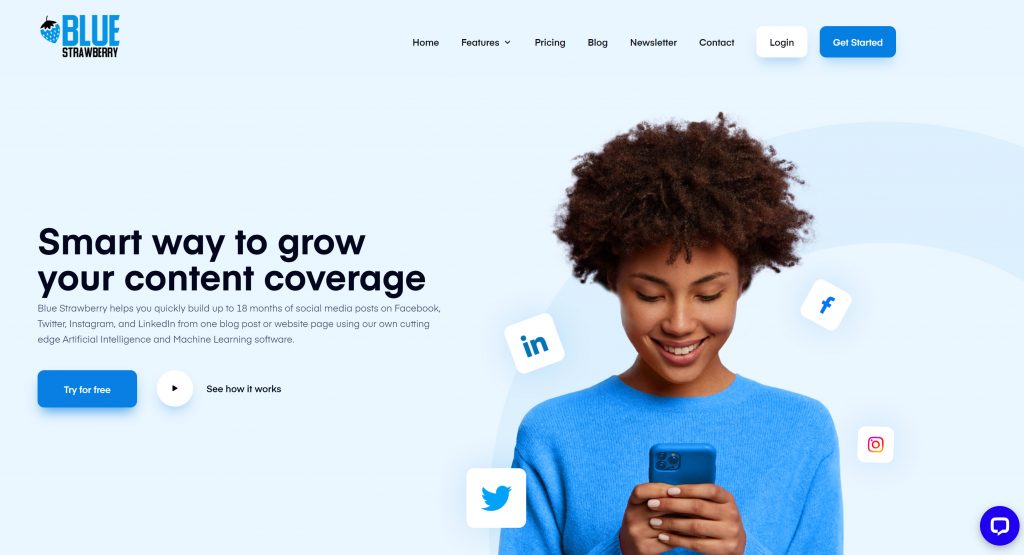 Press Release: Blue Strawberry has just accomplished a feat that has never been successfully pulled off before. The social media campaign company out of Sandwich, Kent, UK has forever changed the way we will pursue campaigns.
Using the help of their advanced, cutting-edge AI, Blue Strawberry can now convert your YouTube videos into content, and then build an entire social media campaign around it. This process may sound complicated, but it only takes a few minutes!
Once you connect your YouTube channel and social media account to Blue Strawberry, the team's AI will create posts based on each video you upload. The AI can also create hashtags and create a schedule of postings for various platforms to get your content out there.
"This is greatly beneficial to small YouTubers and vloggers who could use their time more productively instead." said a Blue Strawberry developer Canterbury Ai. 
Blue Strawberry can also help your online presence in many other ways. Aside from social media marketing and managing, the Blue Strawberry team also specializes in image and video creation and editing, so your content is of the highest quality.
Since everyone has different needs, the team has come up with a variety of pricing packages to cater to many different types of customers.
The starter plan is only $10 a month, and can assist you with up to 200 posts on two different social media accounts.
The basic package is $25 per month, and can assist you with up to 400 posts on 4 different accounts.
With the standard package, which is highly recommended by the team, 12 different accounts can enjoy as many as 3,000 social media posts per month. The price for this package is $45 per month.
The biggest package available is the professional package. This package offers assistance on a whopping 40 different accounts with up to 10,000 posts each month. The pricing for the professional package is set at a monthly rate of $125.
Every package comes with a seven-day free trial, so you can get a taste of what lies ahead.
"My online presence completely changed once I started working with Blue Strawberry," said one vlogger.
The internet has no lack of competition when it comes to those trying to make it big. With this app, you will get a step ahead of the competition in no time!
Make it big today with Blue Strawberry! Check it out at bluestrawberry.app.
About Blue Strawberry:
The Smart Way to Grow your Blog and YouTube content coverage. Blue Strawberry helps you quickly build up to 18 months of social media posts on Facebook, Twitter, Instagram, and LinkedIn from a blog post or from your YouTube channel using our own cutting edge Ai software within just a few clicks – really is that simple.